Pump Up The Bass – Amstelveen
3 maart 2023
Event info
Pump Up The Bass – Amstelveen
Datum:
3 maart 2023
Tijd:
Tijd: 21:00-03:00
Concept:
Pump Up The Bass
Locatie:
Nouvelle - Amstelveen
Leeftijd:
25+
Tickets:
Incl. Fee:
Nee
Opmerking:
Friends First alleen te koop via onze berichtenservice
Line-up:
Disco-Train DJ Team
Adres:
Touwslagerij 11 Amstelveen Nederland
Parkeren:
Gratis voor de deur
Uitgebreide info
Benieuwd welke muziek wij draaien?
Luister naar onze mixen.
Back in the days - terug naar de tijd van de IT, de Roxy, de Richter, Asta enz. Bekende DJ's die daar stonden gaan deze avond met jou terug naar hun roots en knallen de lekkerste Club House Classics van toen de dansvloer op.
En dan vooral die nummers waar je blij en vrolijk van wordt! Waan je weer even in deze onbezorgde en happy tijd met de Pump Up The Bass Party.
Line Up
---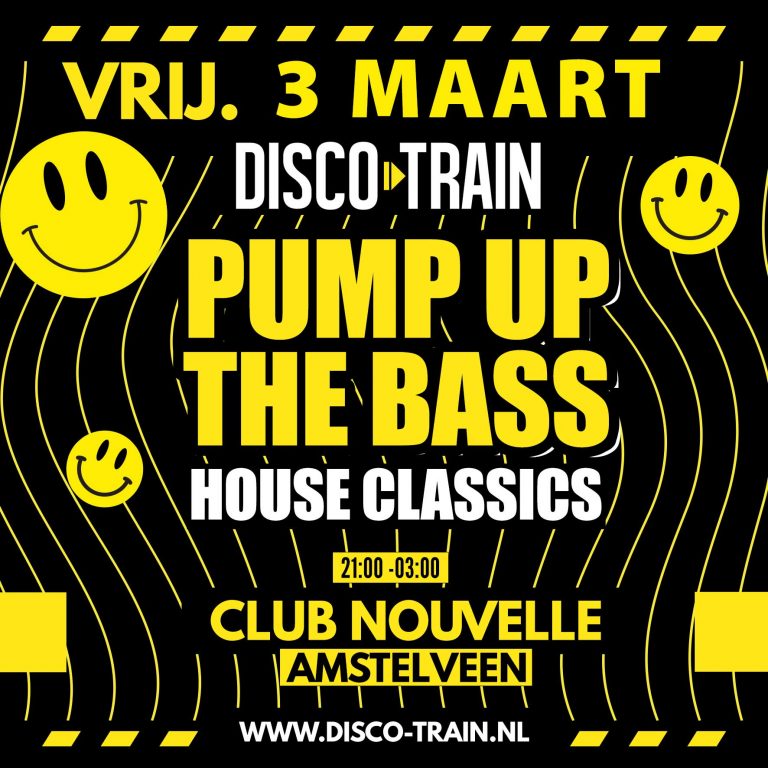 ---
Bestel je tickets keyboard_arrow_down
---